Startup Pitch Competition
September 23, 2020 @ 6:00 pm

-

8:00 pm
Join Entre for a virtual Startup Pitch Competition!
This is an Online Event via Zoom.
Join Entre virtually for our Startup Pitch Competition. 6 startups will pitch to a panel of investor judges and hundreds of entrepreneurs.
Subscribe to Entre Pro Membership to get FREE access to attend this event + all our upcoming events and also enjoy exclusive deals and benefits. Learn more at JoinEntre.com/pro
Agenda:
6:00 – 6:15 pm EST : Event Introduction
6:15 – 7:30 pm EST: Startup Pitches + Q&A
7:30 – 7:45 pm EST: Winners and Prizes announced + Closing remarks
7:45 – 8:00 pm EST: Networking
Prize:
1st place – $500 Cash and $1,000 credit for Ideamotive
2nd place – $500 credit for Ideamotive
3rd place – $250 credit for Ideamotive
Free Entre Pro Membership + Free subscription with VentureX for one year and Free Meeting with Scott Kallick for all finalists.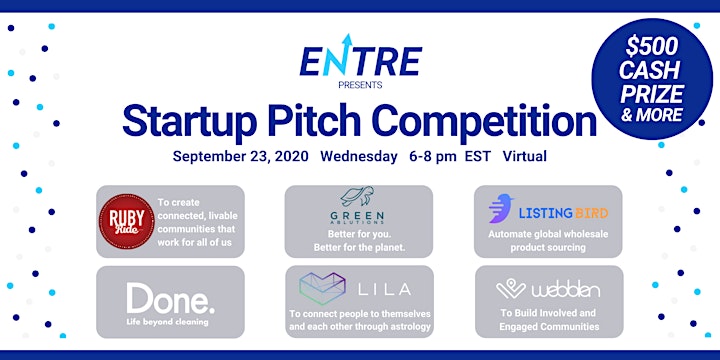 Judges:
Ben Zises – Angel Investor, Advisor & Syndicate Lead
Most notably Ben was the first investor & founding advisor to both quip & Caraway (before each had its name), along with early investor roles in A Kids Book About, Branch, Brightland, cadence, cleancult, co-op, Density, Haus, Judy, Lalo, Stix, Swag.com and Windmill.
Ben's focus is geared towards areas where he is most passionate and have a competitive informational AND educational advantage: CPG + Proptech, seed stage. He personally experienced the complete life cycle of building a company: from identifying a problem/market opportunity, coming up with the "idea", to painstakingly developing a business plan and road-map (both in my head and on paper).
Ben has been in a founder's shoes: from leaving my stable job, asking friends and family for money ($2MM raised from 30+ investors), to hiring and scaling a team, and more. He has also experienced similar ups and downs: from launching to widespread industry acclaim, countless press articles, gaining tens of thousands of users, iterating & pivoting 3x, pitching hundreds of VC's in NYC & Silicon Valley, to failing to raise a successive round of funding, and ultimately winding down the company (and moving past failure).
Candice Matthews Brackeen, General Partner of Lightship Capital
Candice Brackeen is the General Partner of Lightship, the Cincinnati based venture capital fund. Lightship Capital works to support of underrepresented, early-stage, transformational businesses.
Scott Kallick – Angel Investor
Scott Kallick is a Business Coach, member of the International Coach federation, and Founder of Transformative Business Coaching. Scott is also a Graduate of the Accomplishment Coaching School of Coaching, and a trained Ontological Coach.
Scott partners with Business Owners, C-level executives, and non-profit corporations to challenge their mindsets, move them toward their highest possibility, and define their stretch goals toward a future of their creation. Having been a hand-on owner of a company that grew from a boutique valet service business operating out of a garage to over 2000 customers in fourteen States in a twenty five year period, Scott brings a wealth of experience in strategy, sales, and customer relations to the table.
Scott has developed a heart based leadership model, from which communication to employees, vendors, and customers can reach a new level of cooperation and alignment. In addition to his experience, Scott is deeply committed to his clients, and to seeing them realize their hopes and chrystalize their visions, to attain an optimal future. Co-actively working as a trusted advisor, and a professional trained to listen deeply at several levels, Scott believes that his coaching can bring about transformation.
Sydney Wong – Entrepreneur, Angel Investor, Speaker & Founder of VentureX
Sydney was crazy enough to go to Silicon Valley with a one-way ticket with no job, no VISA, and no apartment! A friend from San Francisco said if she was serious about tech and startup, she should move to Silicon Valley. Sydney bought a one-way ticket the very next week. She met young, confident entrepreneurs who struggled through many obstacles to get to where they needed to be in order to compete. She saw the opportunity. The startup industry is like a battlefield with few winners but the opportunity I saw and built my company mission around was "What would it take to produce more winners?" Fom then, VenturX was born. Since starting VenturX, they have won Startup Canada's Woman Entrepreneur of the Year, won top 6 startups in Montreal by Startup Canada, featured in Innovate Montreal Book in 2019, nominated for RBC's Woman of Influence and, nominated for 3 Small Business BC Awards.
About:
Web Development || Mobile Apps || MVPs || Graphics Design || Technology for Start-ups.
For last 6 years they've been creating technology for start-ups like yours. Will help you get the best talent of Europe to work on your project within less than two weeks. Ideamotive is a fast growing software house based in the heart of Europe, in Warsaw, Poland.
Experts at Web & Mobile technologies and outstanding interactive UX/UI design.
To get your software done or hire top-class developers reach out to Filip here- https://www.ideamotive.co/hire-team
Connect at- www.ideamotive.co or on Linkedin- https://www.linkedin.com/company/ideamotive/
VenturX is a platform that prepares startups for funding by using your startup metrics to best match you to active seed and series A funds around North America. We currently have our own angel fund and partner with 250 angels and venture capital investors across the continent. Learn more at VenturX.ca
Netcapital is an online funding portal on a mission to democratize investing. Netcapital is the easy way to invest in startups and make the private capital markets work for you. You need access to more private investments and more information to find the right opportunities with low investment minimums to build a well balanced, diversified portfolio. You need a pathway to liquidity for shares that have high demand. Create your account and start investing today at www.netcapital.com
Netcapital is offering $1,000 in services to all pitching companies today. Interested founders should contact Rob Burnett, Head of Business Development at rob.burnett@netcapital.com
Our events brings people together to openly discuss and share ideas with like-minded individuals. We welcome entrepreneurs of all types, start-ups of all sizes, industries, and stages to join us in finding the inspiration, resources, and friends that will make them successful. Whether our members are just beginning to build a company, or are years into their venture, We aim to refer to the best services available for helping them achieve their goals.
We aim to work with sponsors and partners who share our vision in helping the start-up community grow and succeed. For event sponsors, email Sponsor@JoinEntre.com