Startup Pitch Competition
October 28, 2020 @ 6:00 pm

-

8:00 pm

Free
Join Entre for a virtual Startup Pitch Competition!
This is an Online Event via Zoom.
Join Entre virtually for our Startup Pitch Competition. 6 startups will pitch to a panel of investor judges and hundreds of entrepreneurs.
Subscribe to Entre Pro Membership to get FREE access to attend this event + all our upcoming events and also enjoy exclusive deals and benefits. Learn more at JoinEntre.com/pro
Agenda:
6:00 – 6:15 pm EST : Event Introduction
6:15 – 7:30 pm EST: Startup Pitches from Finalists + Q&A
7:30 – 7:45 pm EST: Winners and Prizes announced + Closing remarks
7:45 – 8:00 pm EST: Networking
Prize:
First Prize: $500 Cash
Free Entre Pro Membership + Free Coaching call with Scott for all finalists.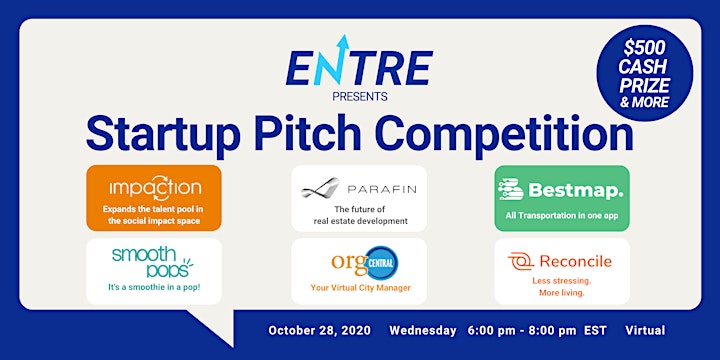 Finalists:
Judges:
Brad Jenkins, Co-Founder & CEO of Seed Round Capital
Brad is a serial entrepreneur turned startup advisor and angel investor, having founded over half a dozen companies over the last 25 years and selling four of those. Before becoming an entrepreneur, Brad worked at a fast-growing tech startup that went public, and successfully paid his way through college operating a couple of small businesses. He has personally invested in over two dozen startups and is an active early-stage investor. Brad serves as a mentor for a number of Houston area incubator and accelerator programs and served on the Houston board of the Entrepreneurs' Organization, a peer-to-peer global network exclusively for entrepreneurs of seven figure plus businesses. He is a graduate of Texas A&M and holds a BBA in Marketing with extensive coursework in computer science.
Erica Duignan Minnihan, Founder & Managing Partner at 1000 Angels
Erica Duignan Minnihan is Founder and Managing Partner at 1000 Angels, a private venture investment network for select accredited investors, family offices, and venture funds. She is also Founding Partner of Reign Ventures, a Seed Stage Venture fund that invests in scalable technology and tech-enabled businesses.
Erica has been an active investor and advisor to early stage companies for over 12 years, and was an investment banker for 8 years prior to that. Before launching Reign and 1000 Angels, Erica was a Managing Director at DreamIt Ventures in NYC. She also has served as a founding Executive Director at both STAR Angel Network and Golden Seeds. Prior to beginning a career in venture, she practiced Investment Banking at Citigroup, Credit Suisse and Cantor Fitzgerald.
Erica earned her BA in Business Economics from UCLA and an MBA in Finance with honors from Columbia Business School. She has also made regular appearances on network television for MSNBC and CNBC on "App Wars", & "Your Business" and "Crowd Rules" as a startup business expert.
Kirubha Perumalsamy, Investor at Bloom Venture Partners
Kirubha is an investor at Bloom Venture Partners where they are buy, build + invest in SaaS. Bloom's VC Fund, Bloom Capital, is laser focused on supporting Pre-Seed to Seed stage founders building companies in FinTech, Digital Health, and the Future of Work.
Nisha Desai, Investor & CEO of Andav Capital
Nisha Desai is Managing Partner of Andav Capital, a New York-based investment and advisory firm for early stage tech-enabled companies.
Prior to her role leading Andav Capital, Ms. Desai was a Director at Deutsche Bank, where she managed a firm-wide restructuring program pursuant to a $19.7M Consent Order, advised senior management and Board members on multi-billion-dollar investments and complex cross-border deal structures, and represented the firm in industry and regulatory discussions. Previously, Ms. Desai served as a Vice President at J.P. Morgan, where she led a global remediation program pursuant to $225M Consent Orders, advised on restructuring the investment bank under Dodd-Frank, and was seconded to the CIO-losses "London Whale" Crisis Management Taskforce, where she also supported CEO Jamie Dimon during his Congressional testimony. Earlier in her career, she worked on financial litigation and white-collar criminal actions at the law firm Wachtell, Lipton, Rosen & Katz; in consultative sales and business development at Google Inc.; and as a pre-revenue Founding Team Member ("Employee #4") at Sweetgreen, a startup now valued at $1.6B. Previously, Ms. Desai served as U.S. Congressional staff for civil rights leader Congressman John Lewis and judicial staff for a Public Defender's Office and Superior Court in Georgia.
Ms. Desai holds an M.B.A. with Distinction in Finance, Operations, and Entrepreneurship from The Wharton School at the University of Pennsylvania and a B.S. with Honors in International Politics from Georgetown University. She has served on the boards of various companies and nonprofits and currently serves as a non-residential Fellow with the Atlantic Council, a global think tank. She is an active member of the CFA Society of New York and an advisor, judge, and mentor with Techstars, SAP, SAP.io, Microsoft, Google for Startups, Maryland FounderTrac, NY Fashion Tech Lab, and various startups and investment firms.
Scott Kallick, Angel Investor
Scott Kallick is a Business Coach, member of the International Coach federation, and Founder of Transformative Business Coaching. Scott is also a Graduate of the Accomplishment Coaching School of Coaching, and a trained Ontological Coach.
Scott partners with Business Owners, C-level executives, and non-profit corporations to challenge their mindsets, move them toward their highest possibility, and define their stretch goals toward a future of their creation.
Having been a hand-on owner of a company that grew from a boutique valet service business operating out of a garage to over 2000 customers in fourteen States in a twenty five year period, Scott brings a wealth of experience in strategy, sales, and customer relations to the table.
Scott has developed a heart based leadership model, from which communication to employees, vendors, and customers can reach a new level of cooperation and alignment.
In addition to his experience, Scott is deeply committed to his clients, and to seeing them realize their hopes and chrystalize their visions, to attain an optimal future. Co-actively working as a trusted advisor, and a professional trained to listen deeply at several levels, Scott believes that his coaching can bring about transformation.
About:
Ramp is a technology company building the next generation of corporate credit cards; smart enough to help founders and companies protect their money, understand spending patterns, and find ways to save.
Ramp was founded by the same team who built, scaled, and sold Paribus to Capital One, spearheading Capital One's push into saving technologies. Their group at Capital One enables automated savings on online purchases, and puts over $100 million back in consumers' pockets every year. Ramp is committed to providing that same value and savings to businesses by creating a corporate card that actually works on a company's behalf.
Our events brings people together to openly discuss and share ideas with like-minded individuals. We welcome entrepreneurs of all types, start-ups of all sizes, industries, and stages to join us in finding the inspiration, resources, and friends that will make them successful. Whether our members are just beginning to build a company, or are years into their venture, We aim to refer to the best services available for helping them achieve their goals.
We aim to work with sponsors and partners who share our vision in helping the start-up community grow and succeed. For event sponsors, email Sponsor@JoinEntre.com